21 Jun

Stop the 77% – Dog Bite Prevention in Children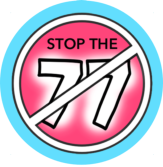 It is estimated that 77% of dog bites come from a family dog or a friend's dog. To keep children and dogs safe, two dog trainer mums got together and created videos aimed at parents and children which can be viewed online on their website www.stopthe77.com.
They also created a poster which can be downloaded by clicking here.
It is important to recognise the signs dogs show when they are uncomfortable and when dogs feel they have no choice but to protect themselves.